**Last Day to enter the Book Holiday Giveaway**
Big thanks to everyone who participated!
(winners 2b announced 12/16)
2
0
1
0
'
is almost over and what better way to send it off than to throw a
Book
Holiday
Giveaway
! There were tons of great books released this year, but if I had to pick my top 6 favorites, the winners would be: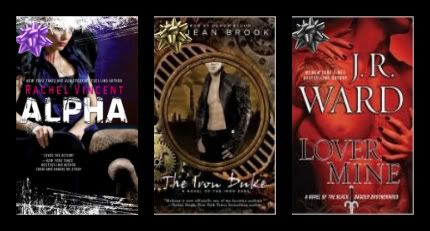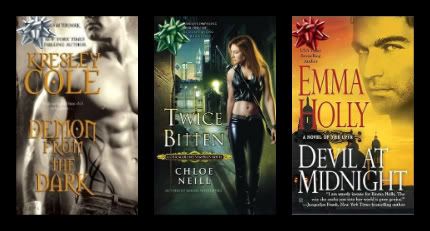 2.)
The Iron Duke
by
Meljean Brook
6.)
Devil at Midnight
by
Emma Holly
*
*
Since this is my very first Giveaway, I decided to step it up one more notch by throwing in this really cool "I Love Vampires" book light!"
*
*
Rules:
This giveaway is for any of the above 6 books and will remain open until December 14th. Deadline for entry is Tuesday, December 14th at 11:59 EST. This is an international book giveaway (anywhere the Book Depository ships). Unfortunately, the "I Love Vampires" book light can only be shipped to US and Canada. Winners will be announced on December 16th and notified via email. Winners have 72 hours to claim their prize.
To Enter:
1.) Follow this blog on Google Friend Connect (see right sidebar)
2.) Leave a comment on this post letting me know which prize(s) you are interested in, as well as an email address, so the winner can be contacted.
Extra Entries:
+1
Follow me on Twitter
+1
Tweet about this contest on Twitter (use @NocturnalBites in your tweet)
+1
Include my Button in your blog roll (include link in comment)
+2
Mention this giveaway on your blog (include link in comment)
B
e
s
t
o
f
L
u
c
k
!
!
****BOOK BLOGGERS HOLIDAY BASH****
Also,
Please hop on over to these fabulous blogs for a chance to win some more great things!!
Special thanks to
Angela over at Soap Box in My Mind for hosting this event..