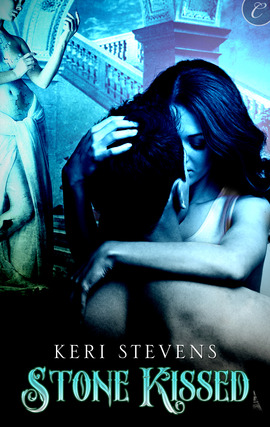 When Delia Forrest talks to statues, they talk back. She is, after all, the last of the Steward witches.
After an arsonist torches her ancestral home with her estranged father still inside, Delia is forced to sell the estate to pay his medical bills. Her childhood crush, Grant Wolverton, makes a handsome offer for Steward House, vowing to return it to its former glory. Delia agrees, as long as he'll allow her to oversee the restoration.
Working so closely with Grant, Delia finds it difficult to hide her unique talent—especially when their growing passion fuels her abilities.
But someone else lusts after both her man and the raw power contained in the Steward land. Soon, Delia finds herself fighting not just for Grant's love, but for both their lives… (Excerpt from Goodreads)
Stone Kissed is Keri Steven's debut novel, featuring Delia Forrest, a stone conservator who can communicate with statues. I was immediately drawn to this book, primarily because of the unique story line. No vampires or shape shifters here.. Instead, Keri introduces us to a world filled with talking statues, witches, a psychotic succubus, and an ancient town that harbors special powers. Oh, and did I mention this story features a budding romance with hot, smexy love scenes?
This book is a fun read. Delia Forrest is young, courageous, but also shy and timid, if that makes any sense. Delia is like a maternal mother hen when it comes to her statues and the way she cares for them is so sweet. There is also some friendly bickering that goes on with the statues, which is downright hilarious.
Delia is thrown off her rocker when her childhood crush mysteriously appears to buy her house. Delia takes the money, because she needs it to pay her father's medical bills. Grant Wolverton has a knack for finding treasure. So, it is no coincidence that he is there to bail out Delia in her financial predicament t in exchange for the deed to her home. What Grant does not know, however, is that he will become so inexplicably drawn to the owner of the house. The way Delia makes Grant feel is totally new to him. In response, Grant begins to change from being self-absorbed, and egotistical to someone capable of eternal love and commitment.
The chemistry in this book is great. As I said before, the love scenes were hot and I easily became a fan of the "Grant + Delia" duo! The suspense in this novel came in the form of a Psychotic Succubus. A cousin to Delia, Cecily wants the Steward house for herself, and proves that she will stop at nothing to get it. In addition to the house, Cecily also sets out to seduce Grant, a task that proves easier said than done.
I enjoyed this book. Stone Kissed is a great start to a series and I eagerly anticipate the next installment. Some clues in the book lead me to believe that Grant's sister as well as best Friend will play a larger, if not primary future story line. Hopefully, we shall see!
Like most brand new series, however, I did have a few issues…The first being an initial lack of connection between Grant and Delia. Obviously this was resolved, or I would still be ranting about it. Also, I could have used a little more background story. Another 40-50 pages would have been great, especially in telling more about Grant and Delia's childhood/upbringing. Despite these minor flaws, Stone Kissed was a good read. Definitely one for the PNR Junkie's TBR pile.
"Quote"-Worthy
She tried to scuttle past St. Francis, but he was having none of it. The old cleric whistled. "Ooh, la la! Would you look at that?" His bird chirped.... "You're a monk. Act like one."..... "You're a woman. It's good to see you can dress like one."
"I am sorry, Grant. I don't come with the house".......... "No," he replied slowly. "I haven't yet seen you come here."........
Overall rating: 3.75 out of 5
**Book provided by Carina Press via NetGalley for review purposes**